Pirelli and Stefano Mesa Set New Motorcycle Track Record at Daytona International Speedway 
[Daytona Beach, FL 22/10/2023] — In an exhilarating display of skill, determination, and sheer speed, Stefano Mesa, a seasoned motorcycle racing sensation, etched his name in the annals of racing history by breaking the motorcycle lap record during Round 19 of the ASRA (American Superbike Racing Association) Championship, held at the iconic Daytona International Speedway, The world center of racing. This remarkable feat was accomplished on Lap 3 of the Unlimited Superbike race, leaving spectators and fellow competitors in awe.
With the New Lap Record of 1:44.046 Mesa Goes a Full Second and a Half Quicker Aboard his BMW M 1000 RR, Equipped with Pirelli DIABLO Superbike Slick Tires
ATLANTA (October 24, 2023) – Pirelli congratulates Stefano Mesa on setting the new absolute motorcycle track record at Daytona International Speedway during last weekend's American Superbike Racing Association (ASRA) and Championship Cup Series (CCS) event. Mesa's incredible performance saw him topple the previous track record by 1.5 seconds aboard his Tytlers Racing BMW M 1000 RR machine, equipped with Pirelli DIABLO Superbike slick tires.
"What a weekend at Daytona," said Mesa. "I did not expect to do what we did this weekend by lowering the lap time a full second and a half. Pirelli has done its homework when it comes to racing at the legendary speedway, and that has shown with its success over the past several years here. The level of comfort that I had this weekend was something I had not felt in quite some time. Thank you, Pirelli!"
The new lap record of 1:44.046 easily surpassed the previous best time of 1:45.538 and relied on the performance of Pirelli's DIABLO Superbike 120/70 R17 SC2 front and 200/65 R17 development "Daytona spec" rear tires.
"Time and time again, Stefano raises the bar," said Oscar Solis, Senior Racing Manager, Pirelli. "Track records are typically broken by small margins, especially at a historic track like Daytona, so what Stefano did this weekend was special. Everyone at Pirelli has worked incredibly hard to find the perfect setup, and that really showed today. We can't wait to carry this momentum into the Daytona 200."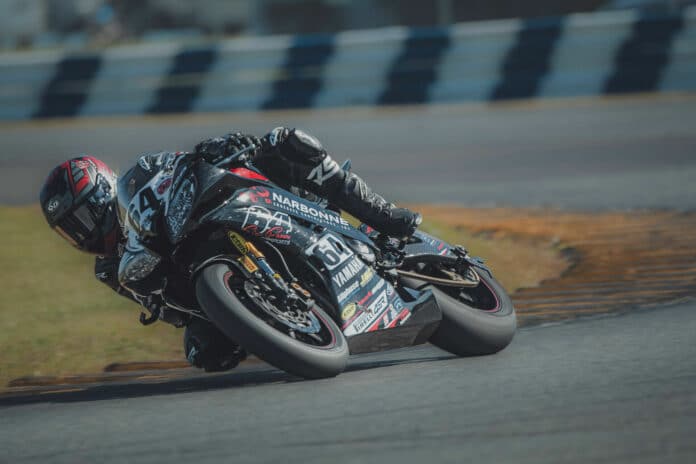 The weekend served as an early test and preparation for the iconic 2024 Daytona 200, with Mesa and fellow Pirelli rider Shane Narbonne also setting the fastest 600cc times of the weekend with a 1:49.227 and 1:49.282, respectively.
DIABLO™ is a registered trademark of Pirelli Tyre S.p.A